Best Synthetic Turf Installation Services in Lakeland, FL

Synthetic turf safety surface has a close range of similarities and characteristics with synthetic grass. They are both artificial grass, but you can elaborate on their benefits and costs. When you have been installed a synthetic turf playground by Lakeland safety surfacing, you are being ensured of safety. The environment becomes natural and friendly.
 Some of the advantages are soft compliant surfaces as it absorbs impact during falling. The safety surface protects children from their knees being scrapped as the surface is soft and tender. It is accessible for all people, and it is durable. Consider synthetic turf as it provides many benefits.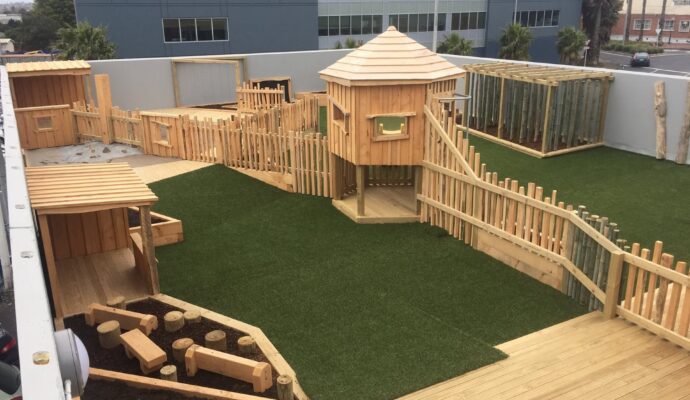 Safety measures should always be at the top when you are opting to install a playground. A part of the well-being of children, we should also consider the safety measures and mechanisms. Synthetic grass can provide a safe playing surface due to its softness and tenderness.
The synthetic turf is a shock absorber during falling, reducing the impact. When a playground is installed using the product, then the safety of our children is input into consideration. As they run back and forth during their usual play, jumping up and down, they are not subjected to severe injuries as the impact is minimal. The safety measures installed are also suitable for people with mobility.
After installing synthetic turf, little practice needs to be done for the playground to be well maintained. When quality artificial turf is used in the surfacing, the traffic and congestion do not have room for trouble.  In a planted playground, it takes a lot of effort to maintain. When the grass overgrows, you need to slash it down, conduct a regular mow. On the bare surface of the playground, you need to plant a layer of grass and even fertilize the ground. Finding time to do all those regular maintenances becomes the practice that consumes a real headache as much of your time.
You can contact Lakeland safety surfacing to install a synthetic stuff safety surface and have a very stumpy maintenance option. The playground only requires to be cleaned occasionally once in a while. You will have saved yourself from the weeding and watering headaches. 
It Is Environmental Conservative 
A synthetic turf safety surface helps you boost the green nature of your playground area. It has low maintenance factors as no needed resources are required for their upkeep. No irrigation is needed, thus saving on water. It saves on your energy as it does not require mowing or trimming compared to a natural surface. Artificial turf does not require fertilizers that might pollute the soil, thus saving the environment.
Apart from the installation of playgrounds in Florida, synthetic stuff is helpful for nearly any recreational area in the United States of America. Adults also tend to enjoy the facilities, and it is safe for everyone, be it children and pets. It fits into public leisure areas as well as private businesses. 
Playground installed using artificial grass observes the cleanness and tidiness of the children. They enjoy outdoor playing without being covered or splashed by running water. A regular playground is primarily affected by the weather during the rainy season, and the surface becomes muddy and tall grasses emerge. This makes it unsuitable for children. Their health is put at risk, and also, they might be intruded on by crawling insects and maybe snakes. In a well synthetic stuff surface playground, children can play without getting muddy and messy, and the playing surface is also easy to clean.
It Gives the Environment a Natural Look
A synthetic turf safety surface maintains the natural look of the regular grass, connecting the children with nature. It appears to be realistic with the same color as the natural grass. The playground can transform into a thriving green space. You can simplify the space that is unsuitable for planting natural grass due to land infertility and surface it with synthetic turf.
Synthetic turf can be used in a variety of ways without showing any signs of tear and shear. The materials used in manufacturing the artificial turf are durable and can behold lots of use. The product is resistant to being scratched. They are impressive for a long time, giving out the green outfit for a longer time. You can save money if you install a playground using synthetic turf for your children.
Resistant To Harsh Weather Conditions
Synthetic turf is resistant to weather conditions. The playground can withstand harsh environmental factors without wearing out. They are water-resistant, making it to be in a normal state during rainy seasons in Florida. Also, during summer, it withstands sunshine as it does not crack or peel out.
A well-designed playground in Florida creates logic in the community around the facility giving everyone a chance to have fun. Someone using a wheelchair may not access an ordinary playground as the surface is crumbly and bumpy. Synthetic turf is an ideal key solution when designing an accessible playground that is mending for individuals of all abilities.
This means that even children living with disabilities are more concerned, and they too can have fun. Small children with difficulty balancing on uneven grounds also benefit from the even surface promoting togetherness in the community.
When you go for artificial turf, you cut down both maintenance and cost on installation no need to worry about the expenses in maintenance routines. Cleaning the surface is easy as you can manage your savings by the cost of hiring labor. The cleaning activity is easy and does not take much of your time. Normal pure water is used to clean the surfaces, and also, you can engage older children in helping you with the cleaning. It is chemical-free, thus saving you on your wallet as they are expensive and save the environment. Lakeland safety surfacing enables you to work on a tight budget, making your children happy by providing a safe surface playground. 
Below is our list of additional services: