Best Bonded Rubber Installation Services in Lakeland, FL

Bonded rubber is a safe and excellent playground surfacing option for those who want a more natural look of wood mulch but with safety and low maintenance of a unitary surface.  It is made by combining shredded rubber mulch with a binding agent and then troweling it smoothly by hand. Lakeland Safety Surfacing experts mix the bonded rubber on-site and then they pour it below and around the space structure, then cover the mixture with a top layer.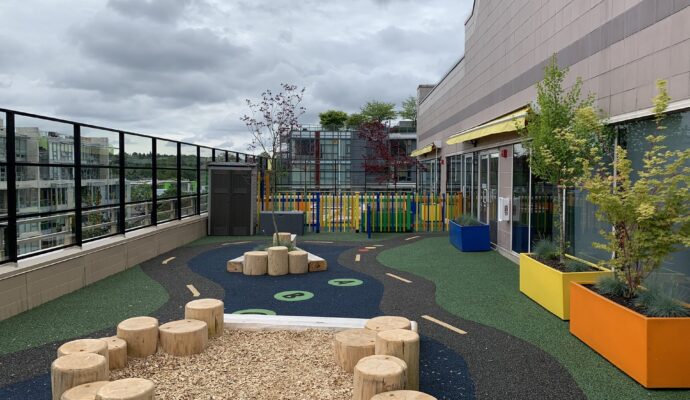 Bonded Rubber is the same as poured-in-place rubber surfacing but the difference lies in the particles, they are much bigger in size. Some facilities tend to go for the look of loose-fill products, but want to have the simple, easy-to-maintain features of a bonded one-piece surface. Minimal labor is needed to prepare the surface for installation; this makes it one of the low-cost options for surfacing materials.
It is a replacement for ancient poured rubber surfaces and provides the same but highly accessible one-piece surface. The rubber surface has components that make it easy to get dyed and mix colors, but decorated patterns cannot be made because of the large particles. There is a range of colors to choose from, from color blends to solid ones. Some of the colors resemble natural materials and wood fiber. Because this material is usually bonded together, it does not require the same maintenance and upkeep.
This rubber surfacing is used on landscaping surfaces and trails. Since it is bound, the bonded rubber playground surfaces cannot be blown away or displaced to other areas. It is a perfect surfacing material for outdoor facilities. The material drains well; it is porous and dries very fast. Therefore, there is no worry at all even during the rainy days. Children can still be able to enjoy their outdoor activities after a heavy downpour. Whether you're searching for a playground surface for a school, park, hospitality center, community center, or early childcare center, choosing the right surfacing depends on many variables
Benefits of Bonded Rubber.
---
Safety
Like other unitary surfaces, this material receives excellent grades due to its safety characteristics. Rubber has natural components that offer superior absorption of impact. Typically, it allows the playground surfaces to meet the (ASTM), critical falling height requirements very easily. Bonded rubber also maintains uniform impact resistance throughout the whole playground. Here are the other benefits of using bonded rubber as a surfacing material:
Doesn't hide harmful objects

Cold and high humidity temperatures don't reduce its effectiveness

Textured surface assists with slip-resistance

Does not get on the mouth, eyes, or hair

Can't be displaced or thrown

Doesn't support microbial growth like bacteria, mildew, and mold

Can't be scattered on walkways as this can create slip hazards
Care and Maintenance
This rubber surface is among the easiest playground materials to maintain. Unlike loose-fill materials, you don't have to clean or rake them. The rubber material has a long lifespan and is incredibly durable. The random-textured surface hides any minor imperfections and damages better in comparison to the poured-in-place rubber surfaces.
The installation process of bonded rubber surfaces requires a high need for manual methods and an extensive preparation of the ground. This makes bonded rubber to be one of the most expensive surfaces to install. However, with time, it will pay for itself since there is minimal maintenance cost. The benefits are long-term.
Besides, these surfaces can only be installed by professional and experienced playground surfacing contractors because they have to prepare the subsurface, mix up the binding agents, and then hand trowels the rubber material to the required height. After installing the surface, these experts also need to cure it well before children can begin to use it for playing.
Accessibility and ADA Compliant
Bonded rubber typically complies with the standard ADA (Americans with Disabilities Act) requirements making it safe and accessible for mobility equipment like wheelchairs and crutches. The only challenge with bonded rubber is that the surfaces are not completely level because of the randomness of the shredded rubber.
Bonded rubber provides a high level of flexibility in terms of design. It can therefore be used to surface the playground as well as the pathways throughout the playground. The appearance of this material is more natural than the poured-in-place rubber because it has mulch-like pieces that are dyed in various colors. If you need a more natural mulch-like look that has low maintenance requirements, Lakeland Safety Surfacing will help you install bonded rubber.
The bonded rubber surface overall is very clean. It can be tedious to wash or sweep off the dirt and debris from a textured surface but it is still cleaner than the other loose filling materials. Most of the debris on bonded rubber can be swept away or blown very easily using a hosepipe.
However, you need to inspect this surface regularly in case there are objects hidden or stuck on the surface and remove the debris manually. This will come in handy and will avoid extra repairing costs in the future. Bonded rubber's non-slip surface makes it an ideal choice for adding clean and safe pathways throughout a playground.
Due to its long lifespan and low maintenance requirements, many people find that the lifetime cost of bonded rubber outperforms seemingly less expensive options.  Certainly, bonded rubber does require a higher initial investment than loose-fill materials, but it is in line with most of the other unitary surfaces.
Bonded Rubber is an absolutely excellent choice for a natural look with the benefits of a unitary surface. Unlike it been visually comparable, loose-fill surfaces, Bonded Rubber will not displace when trodden on and requires less frequent maintenance for compliance.
When choosing the right surface(s) for your project, it's important to keep these variables in mind as well as weighing the advantages and disadvantages of the different products offered in the industry. Our team of professionals at Lakeland Safety Surfacing will help you determine what might be the best option for your upcoming project.
Below is our list of additional services: