Lakeland's Best Poured-In-Place Rubber Installation Services

Looking for a beautiful, low-maintenance, accessible, and safe surfacing solution for your playground? Lakeland Safety Surfacing has the ideal way to create a safe surface, this is by installing Poured-In-Place Rubber surfacing. It is made of quality rubber particles that are applied in a double layer to offer maximum safety. The bottom layer consists of bulky rubber scraps to act as shock absorbers while the top layer is mainly made of EPDM particles.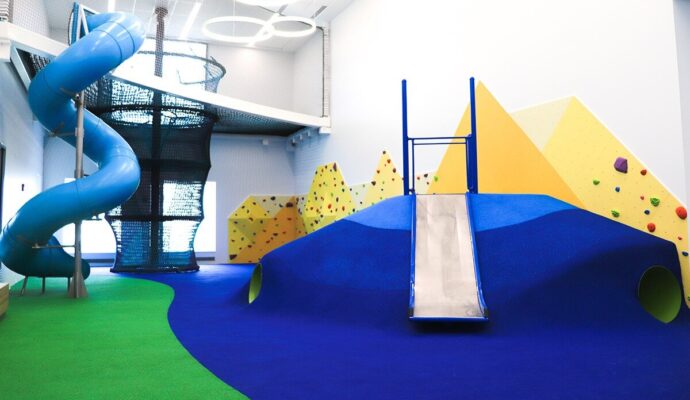 This surfacing is the most suitable option for those planning on saving for other long-term costs and maintenance fees. Unlike loose-fill rubber, mulch, and sand, poured-in-place rubber does not be topped up or raked. This rubber surfacing offers long-term solutions that are safe, flexible, and ADA accessible. Poured rubber surfaces in playgrounds are beneficial to the commercial and public parks, both local and institutional playgrounds, and any other space that is friendly and suitable for children.
It is created at a depth consistent with the critical fall height you have for the playground. It can sometimes be up to 10 inches thick hence safe for ages. This is an excellent solution for playground areas that are used by energetic and active individuals. These, however, are the features of poured-in-place rubber and reasons as to why you would consider this for your surface:
It is Safe
When it comes to how safe playgrounds should be, we always ask ourselves three main questions. What are the materials used to make the product, whether it contains chemicals or not and how will they protect children from injuries? The double-layered poured-in-place playground surfacing protects children from falls of up to 12 feet.
This rubber surface adheres to the standards of the Critical Fall Height which is the maximum height that offers safe landing in case of hard falls. This naturally depends on the vertical between the surface and the one below. During the installation process, Lakeland Safety Surfacing experts ensure and provide you with a seamless, porous, and resilient playground surfacing that offers total fall protection.
We cannot hold children accountable when it comes to what they pick or put into their mouths or even play with. Getting in contact with the rubber surface, therefore, is safe because it is made from natural rubber which contains latex. Latex is a skin sensitizer; it does cause allergies or irritation. Poured-in-place rubber is in a solid state and loose particles are rarely found.
Accessible and ADA Compliant
This option comes in a wide range of designs and colors, with absolutely no limit to what the experts can do to give you a colorful playground surface. It is the most accessible surface for playgrounds making it easy and convenient for the physically disabled. Wheelchairs etc. can smoothly move around this safe surface.
 The main goal for a convenient playground surface is its accessibility to those with crutches and wheelchairs; this also applies to parents with babies on walkers. This rubber surface meets the ADA (Americans with Disabilities Act) accessibility requirements due to its unitary and leveled surface. The playground becomes a fun space for all.
Poured-in-place rubber is tailored in a way that suits and perfectly fits any space. This however has made it popular in both indoor and outdoor playgrounds. It also comes in plenty of colors that can be dyed to get you your desired surface theme. Due to the wide range of colors, there is potential in unlimited designs.
Children love colors and patterns, go for bright colors that will also help them in putting their spirits high throughout their playing time. There is also the option of installing a coating that has been customized to suit your business and your business environment perfectly.
Maintenance
The cost of the rubber surfacing beforehand is high. Several factors may include the cost of its installation, the condition of the existing surface, the size of the area, and the critical fall height requirements. Ask for a free quotation so as to get an estimation of the installation cost per square foot for your project space.
Naturally, the rubber flooring will last for many years with little need for maintenance; it surely will pay for itself in the long run. Poured-in-place rubber lasts for a decade with very little or rather, minimal maintenance. But in the long run, the rubber playground surface cost is quite affordable because of the elimination of the maintenance cost.
Resurfacing and resealing is another part of proper maintenance which should be done yearly to renew the surface and give it greater UltraViolet rays protection. If you clean and care for it as it should, it can last for a lifespan but you must avoid any harsh chemicals when cleaning; otherwise, this can ruin your surface. 
It can withstand the climatic conditions without fading or rusting but it tends to get hard with time. This is true especially in areas with a dry and cold climate. But with occasional expertise examination, the rubber will be in good condition. 
Without regular repairs and maintenance, this color layer will prematurely break down and expose the fragile cushion layer below. Early detection, proper maintenance, and repair by professionals are mandatory in extending the lifespan of your investment.
Durability
When it comes to durability, this rubber surface is among the best in the unitary surface materials option. Its soft cushioned layers and non-elastic nature make it not splinter or crack no matter the high-foot traffic or harsh weather conditions. It literally stands for anything thrown at it.
Due to the EPDM rubber granules in the top layer of the poured-in-place rubber, it does not wear or tear because it is made to resist friction. The surface is also non-slip and efficient when it comes to grip hence no slipping. Lakeland Safety Surfacing uses quality rubber mainly made from natural materials that will help the surface to remain supple, soft, and leveled throughout.
Installing poured-in-place rubber is not mandatory but it is important to make sure that you've done your due diligence as a property owner. This is critical especially when it comes to preventing injuries and unnecessary lawsuits.
Below is our list of additional services: