Best Safety Surfacing Installation Services in Lakeland, FL

Daycares, nurseries, and schools have become conscious of the safety and health requirements of playground surfaces. There was an increase in serious injuries because the surfaces were hard, now safety surfacing is on the rise. Lakeland Safety Surfacing provides quality installation services. Playing is a formal part of childhood, this is where children form a bond, sportsmanship, and an inclusive spirit of fun. Therefore, the main reason is that a safe surface is an ideal way to go. Since the introduction of safety surfacing on playgrounds, there has been a huge decrease in injuries.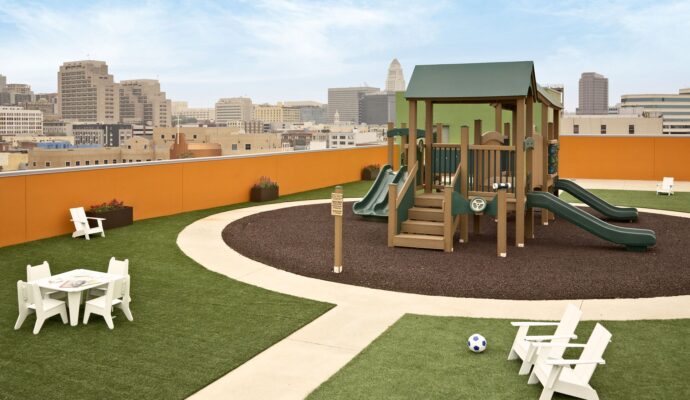 Does Safety Surfacing have a Legal Requirement?
Truth be told, when it comes to safety surfacing for playgrounds in institutions, there is absolutely no legal requirement. For some, it is just by free will but with other institutions, safety surfacing is mandatory. Who would not want to opt for a safe surface anyway?
Lakeland Safety Surfacing specializes in installing safety surfaces for playgrounds. There are a number of safety surfacing products that can be used especially in school compounds. Each claiming to be the best but there is no good in everything.
Before choosing one, you can check with our experts, get to know the right materials to be used for your surfaces. All of these surfaces have both good and bad sides. Below are the things you ought to consider before choosing a safety surface.
Safety 
This is a priority when it comes to a good surface. How safe is the product used? Does it have great shock absorption properties? A safe surface should be non-slip and be able to withstand the high-foot traffic, hence reducing the friction rate. This reduces the risk of tripping and falling.
Accidents do happen while playing, falling therefore is not inevitable. But a hard surface will cause more compared to a safe surface. To make them fully enjoy their time and be safe too, install a surface that would protect them from all this.
A safe surface has to give a clear view of what is on the ground so as to avoid stepping on or coming across hidden objects on the ground. It also has to be safe in terms of environment and skin. Check if it has environmental harm or can cause allergies.
The maximum height of the equipment installed should not be more than the fall height protection rate of your surface. Lakeland Safety Surfacing installs standard equipment and playground surfacing built safely for play areas. Consider this while looking for a suitable surfacing option.
Accessibility
This is another main factor that you need to put into consideration as you are planning on choosing a safe surface. How accessible is the area? It is a necessity by the law too, especially when it comes to public playgrounds.
A suitable safe surface has to meet the ADA (Americans with Disabilities Act) required for it to be convenient for all. This means that the material has to allow free movement not only to children but with anyone with a physical disability. Avoid discrimination and select a suitable surface that complies with ADA.
Durability
Children are energetic and active; they are always up and down while playing. This increases the friction rate. An ideal surface for a playground that will suit them is one that can survive the force. A safe one is not supposed to gradually degrade; the material has to be compromisingly safe. Choose a surface that is highly resistant to wear and tear and durable too.
The climate changes all year round, the surface has to withstand all this. Hot or cold, wet or dry, a safe surface can survive all this and still last for a long time.
Maintenance
There are both natural and synthetic surfacing materials but each of them has a different way of maintaining it. From time, money, and water, you would love to save this while going for a suitable surface with absolutely minimal maintenance.
You may want to replace surfaces that need a lot of concentration and time for them to look nice and instead go for those that give maximum savings. A suitable surface is resistant to both moisture and stains, children cause a mess in a lot of ways like dirtying the surface with drinks, leftovers, and sticky snacks. This however should be the reason why you should opt for one that is mess prone and needs a little cleaning and still look great.
Visual Appearance
There are numerous safe surfaces and they all come in a wide range of colors and are flexible enough to be designed in whatever design. Children are playful and for a playground, for instance, you will require a surface that has both bright colors and designs that are pleasing to the eyes.
Colors have a strong impact on kids, for a positive mood and calm mind, go for bright colored surfaces. Make them always look forward to having fun and playing there.
Warranty Period
Installing a safe surface is an investment that you will surely want to serve you for a long period of time. Surfacing materials that reduce the risk of injuries and are durable are what you have to go for. Why spend a lot on a surface that will only last for a short season then it goes to waste?
The environment where you choose to have it installed should meet the set standards for a safe surface and the surface should also offer a long-term warranty. Many are going for rubber surfaces because of their multiple benefits, one being absorbing shock excellently.
Drainage
During the wet season, playgrounds tend to flood, get muddy and slippery. This is inconvenient to children who require play every day. Therefore, when choosing a surface, ensure that the material used can withstand heavy rains.
It should have a smooth drainage flow that will not avoid the surfaces from not drying fast but also ensure that it does not flood. Be keen when choosing a safe surface. Most of the Lakeland Safety Surfacing clients are pleased with the performance of the safety surfaces installed by our experts both in outdoor facilities and commercial playgrounds.
Below is our list of additional services: