Best Rubber Tile Installation Services in Lakeland, FL

Rubber flooring tiles are made from a synthetic rubber material, virgin rubber material, or recycled rubber material. They are only available in squares, but Lakeland Safety Surfacing professionals can design them into different sizes and shapes to perfectly fit your space. Rubber tile thickness is mostly 8mm. Rubber comes with a number of advantages that have made it a popular flooring option for indoor, commercial, and high-foot traffic environments.  Tile products, which typically come in 12-inch, 24-inch, and 36-inch squares, come in handy especially to lovers of DIY.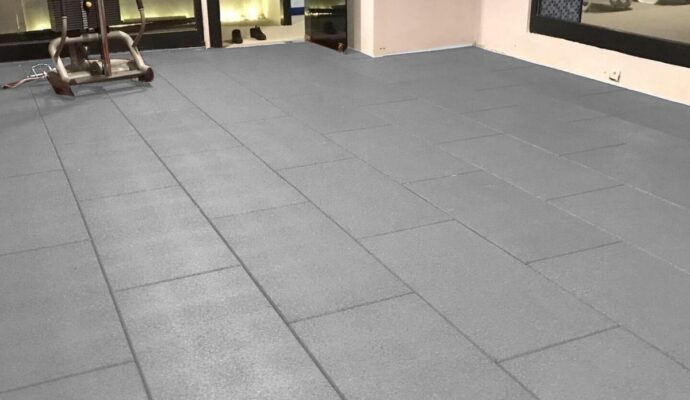 Rubber flooring is flexible hence its numerous advantages have been made known to the public and are available in a wide range of textures, colors, and designs. It also provides an easy-to-clean surface that is resistant to wear and tear making it efficient for hard-wearing areas like the playrooms, basements, gym, and many more. Before the decision to choose this flooring, get to understand its advantages which are mainly balanced by a series of disadvantages too.
The Advantages of Choosing Bonded Rubber
Repair, Maintenance, and Care.
Rubber tiles flooring is easy to clean and maintain. Cleaning this surface requires no more than a damp mop or cloth, depending on the size. In case of stains and decide to use a cleaning detergent, check it out with the manufacturer first, as harsh soaps can damage the flooring.
Synthetic rubber flooring is more stain-resistant when compared to natural rubber. Other types can be painted with a water-soluble wax to make it more resistant to damage and discoloration, but wax must be cleaned and reapplied periodically, creating its own maintenance needs.
Since rubber flooring is resistant to a number of staining agents, there are a few materials that can discolor its surface. Strong detergents and abrasive cleaning liquids can be especially harmful to rubber floors. Lakeland Safety Surfacing experts are at your service for professional help in installing and guiding you through the right way to clean your rubber tiles.
Rubber flooring can also be stained by oil and grease, a downside that should give home chefs a pause before using it in their kitchens. Who would want flooring with greasy stains in the kitchen?
Quality rubber flooring can be costly. Tiles that are suitable for gym spaces may cost less than $2 per square foot, but the types that are beautiful and presentable enough for living areas can cost up to $12 to $15 per square foot if compared to other high-end flooring products and some natural stone. On average, expect to pay $3 to $8 per square foot for decent rubber flooring.
They are the easiest flooring surfaces to install, you literally can do it on your own at home. Are available in two types of installation
Interlocking edges – this is simple, you attach the tiles just like puzzles.

System of edge pins that hold the tiles together.
Tiles are easily cut with a sharp knife. There are also glue-down forms of rubber tiles available, though these are less common for DIYers since they are more complicated to install.
Rubber flooring is highly resistant to damage from moisture on both the top and bottom surfaces of the material. However; if you are installing it in a room such as in a basement, you may need to install a vapor and steam barrier to prevent moisture from seeping up from below. Some rubber floor tiles also come specially treated to make them suitable for wet environments.
The tiles may themselves be water-resistant, but the installed flooring is loaded with seams that can let water through to the top. This is true for any type of resilient flooring tile; it inevitably can't be adequately sealed against the penetration of moisture. Therefore, this is not a great option for humid areas, such as tubs or bathrooms with showers or at least the surrounding area within the tub or shower. If you want to use rubber flooring in these areas then go for sheet products because they are a better choice.
Going for the rubber flooring as your choice for your surfaces, can either be of advantage or disadvantage, depending on your embellishment needs or goals. For a number of years, rubber flooring style options mainly stopped at slate gray and polished black, but recently, you can choose from a wide variety of textures and colors including leaf, coin, and diamond-plate textures. Some types even look like ceramic tile and wood flooring. Despite the advancements, rubber flooring still doesn't offer as many colors and design options compared to vinyl or linoleum, and the wood-like materials are nothing like the real thing.
Definitely, the most commonly known benefit for rubber tiles is the fact that they are tough, strong, and resilient under a number of conditions. Depending on the type of tile used and the environment it is installed in, a properly cared for rubber floor may last for two decades or more.
Despite its durability, rubber tile flooring is soft underfoot. This is one of the main reasons that it is so popular for exercise rooms and playrooms. In short, the thicker the flooring, the softer the surface will be. Some types of rubber flooring have an added cushion foam fabric, cork, or foam-rubber backing. The elasticity makes its flooring very quiet as you walk. Neither do fallen objects clatter nor heels make noise as they do on most hard-surface floors.
On the other hand, very smooth rubber tiles can be slippery when wet. This problem is worse if the floor has been waxed and polished. This problem is most known with smooth rubber tiles; products with surface texture are less susceptible.
Rubber tiles add a measurable improvement to floors. They are also best suited for informal areas of your home which are devoted to utility functions and recreation. Its elasticity and flexibility make it well suited for exercising rooms and spaces where you work on your feet, such as laundry and study rooms. While rubber tiles are more attractive than they once were, this is not a flooring material well suited for highly visible public areas of your home, where appearance is important.
Below is our list of additional services: